Is Net Pay Advance legit? Answers to all your questions
We're speeding up the pay cycle
Our mission is clear.
We're using secure technology to give you early access to your money.
We're helping you avoid financial struggle, by providing the money you need.
We're answering the call. Most people only need $250 to make ends meet. Why make them wait for it? To give everyday people financial peace, we're taking our secure technology online to put a trusted payday loan provider in every neighborhood in California, Kansas and Texas.
We've blended the best qualities of a trusted payday lender and built the best one-stop-shop online for payday loans. With Net Pay Advance, there's a trusted lender in your neighborhood.
Better borrowing. Better service. Better security.
One click for a better lender.
We're the real deal
We're real people helping real people.
We mean good customer service. Nobody knows that better than our customers. Word has it, we're doing pretty good. On Trustpilot, we're a fan favorite.
Trustpilot is a customer review service. It's similar to Yelp or Google Reviews. But Trustpilot is different in that it has a verification process. That means real reviews from real customers.
Did we mention we're kind of a big deal? For one, we have over 6,000 (and counting) 5-star reviews. Plus, we're also the best-ranked short-term lender on Trustpilot. Those piping hot numbers mean a lot to us. But it's the honest and unfiltered reviews that drive us to keep going.
We're blown away by kind words, like these from Maria V., who said "I cannot believe the great customer service this company has and how comfortable they made me feel." That gives us warm, fuzzy feelings.
We love knowing we've made a difference. We were overjoyed to hear from Michelle G., who thanked us for our easy loan process. "Needing emergency dental work I needed an advance from my paycheck and didn't need the hassle or stress of going anywhere. This was perfect."
And we're delighted to hear when others find relief with our help. Like with Sabrina C, who gave Net Pay Advance the most perfect shout out. "You have saved my sanity on several occasions and took the stress out of my life with your help." And from Colleen O., who thanked us "for making life a little easier."
At Net Pay Advance, we celebrate our reviews. Seeing reviews come in reminds us we're doing what we set out to do — help everyday people. Our customer reviews also help others find peace of mind borrowing. Nobody likes asking for help. But our objective is to make the borrowing process as simple and pain-free as possible.
Everyone should leave with a positive experience. As we cultivate new reviews, we stop and read every single one. Then we ask: How can we do better? Thanks to you, we're learning and getting better every single day.
Here's a little more on our Trustpilot score. Trustpilot is designed to help judge the legitimacy of a business. Based on verified customer reviews, Trustpilot awards points for an overall TrustScore. Ours is 4.9 out of 5, making us the top-rated loan company on Trustpilot.
We're with you where you are
We're in your neighborhood.
Find us from your couch. From the gym. Or at work.
Or even on the go. Net Pay Advance is with you where you're at.
We've built our business online. We did this to help as many people as possible. Every day, we're doing more to keep the process accessible to anyone who needs it, while keeping you safe.
Today, we're not only online. We're on your phone. With the Net Pay Advance app, you can apply, make payments, and change your due date — always available at your fingertips.
You can use us and get the same great service (if not, better) than a traditional brick-and-mortar payday lender. Not to knock those providers, but you might not know what you're getting with them. We're secure and trusted.
Our application process takes just minutes, and approvals happen in about 15 minutes or less. We'll deposit you the funds in one business day — usually an hour or two after you wake up in the morning. That's fast, convenient, and simple. That's borrowing better.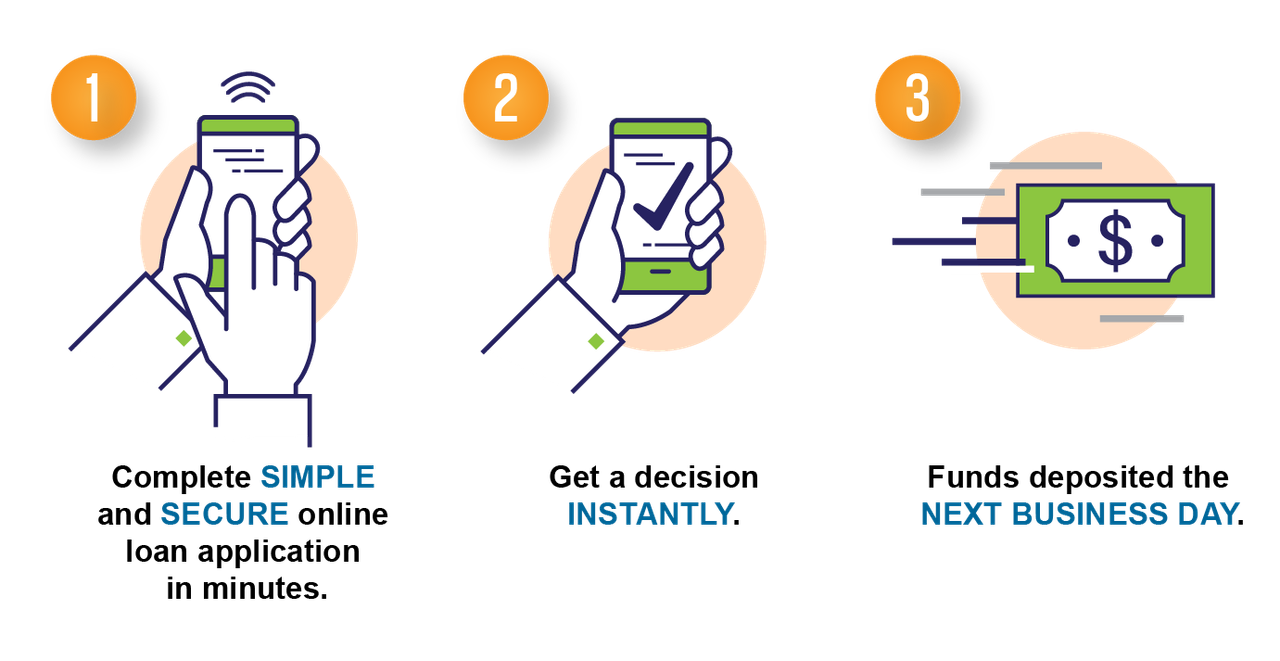 We're safe with your information
At Net Pay Advance, we've set out to make borrowing simple and secure.
Trust isn't something you give away. Trust is earned. So we take extra steps to secure your information and earn your trust. Security is at the center of everything we do.
We have equipped our systems with best-in-class security software to keep all customer information private. Unlike other lenders, we don't share your information. Some lenders like to sell your information to the highest bidder, but that's not our game.
Our organization goes beyond compliance standards, running system checks hourly, daily, and weekly. The other guys don't do this.
FAQ — We have the answers to your payday loan questions
Net Pay Advance is the simplest and fastest payday loan provider online. Every day, we're helping simplify the borrowing process and get money in the hands of people who need it.
When Wes J. needed extra money before payday, Net Pay Advance was there. "The process literally took 5 minutes to apply, (I) was approved 15 minutes later, and received funding the next day."
Loan applications are simple, and require no credit check. Net Pay Advance customer Jordynne knows all about that. She said that we're "great at giving chances to those who have made mistakes in the past but now want to make good on their loans …"
Join the thousands who have found the better lender. Apply comfortably with Net Pay Advance.
One click for a better lender.
Are payday loans safe? Yes, payday loans are a safe way to borrow money. Not only is Net Pay Advance a responsible option for borrowing money, we're also a safer alternative. Net Pay Advance adheres to regulatory compliance standards at the state and federal levels to keep you safe from harm. We abide by set protections and lend you what you can cover, all to help safeguard you from debt.
What is the safest payday loan company? Net Pay Advance is among the safest in the industry for an online payday loan. Our organization goes above industry compliance standards to ensure the highest quality of safety. Online payday loan transactions from Net Pay Advance are secured with a multistage, 256-bit encryption.
Can I get a payday loan with bad credit? Yes, you can get a payday loan with bad credit. You can get a payday loan with no credit. Net Pay Advance recognizes that a number of Americans have poor credit. To us, a credit score doesn't matter. Net Pay Advance provides cash assistance through an online payday loan with no credit check required.
Apply for a payday loan with no credit check, today.